Promotion hopefuls Ballymacash Rangers suffered a setback with a home defeat to Portstewart.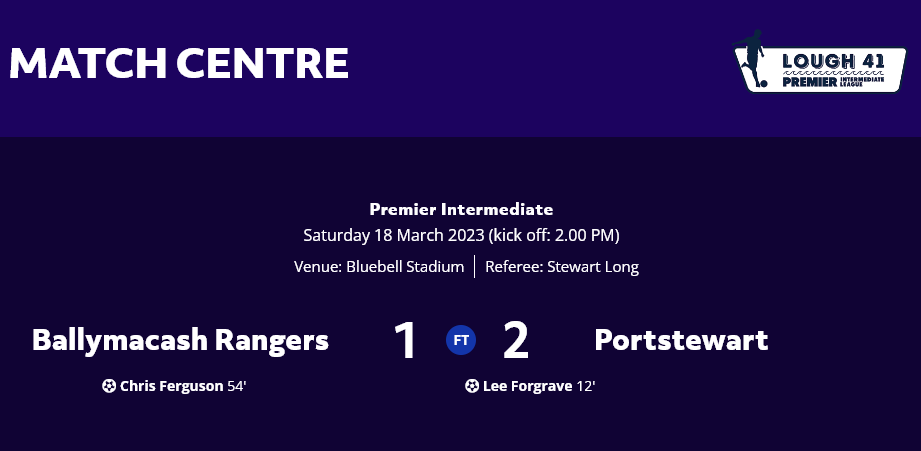 The visitors moved in front after 12 minutes through Lee Forgrave, with the unfortunate home defender Matthew Parker turning the ball into his own net to double the Seahawks' lead before the half-hour mark.
Substitute Chris Ferguson reduced the deficit nine minutes after the break but 'Cash failed to find a way back into the game.
Teams
BALLYMACASH RANGERS
Brian Neeson
Matthew Parker 27′ (OG)
Stuart Clarke
Zach Barr
Jack Smith
Gareth Tommons
Joshua Cahoon
Mark Drysdale
Kyle Beggs
Curtis Woods
Dylan Sinnerton
SUBSTITUTES
Ewan Smyth
Stephen Glasgow
Jordon Morrison
Michael Moore
Guillaume Keke
Ryan Newberry
Chris Ferguson 54′
PORTSTEWART
Conor Henry
Lee Forgrave 12′
Taylor McBride
Michael Stewart
John Watt
Kori Doherty
Glenn Law
Bobby-Jack McAleese
Ryan Doherty
Ryan Campbell
Lewis Nevin
SUBSTITUTES
Reece Oliver
Joel Bradley
Nicky Hudson
Ross Stewart
Shea Curran
Luke McConnell